Saturday, 31 May 2014
---
Shiny Loot - DRM-free indie games for PC, Mac and Linux
Like www.IndieGameNews.com? Please +1 us!

Email This
BlogThis!
Share to Twitter
Share to Facebook
Share to Pinterest
FENIX RAGE WARNS PLAYERS OF A 'RAGE QUIT' EPIDEMIC
COMING TO XBOX ONE, PLAYSTATION 4, MAC, AND PC

Green Lava Studios Challenges Gamers with Aggressively Addictive
Gameplay and Hardcore Platforming Later this Fall
TWAIN HARTE, CA – May 28, 2014 – Costa Rican indie dev studio

Green Lava Studios

, along with indie games' veterans at

Reverb Triple XP

, have just one question for gamers: Can you get the cookie? Get ready to stretch those thumb muscles for

Fenix Rage

, a new 2D hardcore platformer with stylish retro roots and obsessive level-based challenges coming to Xbox One, the all-in-one games and entertainment system from Microsoft, PlayStation®4 computer entertainment system, Windows PC, and Mac. Fenix Rage will be coming to Xbox One via the [email protected] self-publishing program for independent developers.
There is no shortage of gameplay mechanics, demanding platforming technique, and split-second decision making in Fenix Rage. Oh, and lots of cookies.
"The excitement that our team feels is truly overwhelming," said Eduardo Ramirez, Game Designer and CEO of Green Lava Studios. "We are extremely proud of what we are creating and are busy polishing every aspect of Fenix Rage."
An inspired and frenetically-paced 2D platformer, Fenix Rage tests players' ability to run, jump, and dash their way through a maze of dangerous obstacles, across hundreds of lightning-paced levels, all in an effort to track down a shadowy villain. Loads of different enemies, slick retro-inspired music, vivid level landscapes await gamers with the mettle to play. Players will struggle mightily to climb the Leaderboard with the best time and fewest deaths and then rub it in the face of their friends.
Fenix Rage epitomizes the kind of games with which Reverb Triple XP partners. Green Lava Studios is working in cooperation with Reverb Triple XP for a 'powered-up' custom communications and publishing solution that fits its needs as an indie game developer.
Slated for release in fall 2014, Fenix Rage will be coming to Xbox One, the PlayStation®4 computer entertainment system, Windows PC and Mac platforms. For the latest buzz follow Fenix Rage on Twitter, "Like" the game on Facebook, check out Fenix Rage on Steam, and visit the official Website at www.FenixRage.com.
Fenix Rage will be playable at the E3 Expo 2014 in Los Angeles, CA.
Green Lava Studios prides itself on combining technology, new gameplay experiences, inventive storytelling, and meaningful messages into completely unique and compelling interactive entertainment. Hailing from lovely Costa Rica, Green Lava Studios consists of an experienced four-year team whose mission is to create fun, memorable, and captivating games for the whole world to enjoy. With several successful titles already under its belt, including "Bonfire Trail", winner of the "Square Enix Latin America Game Contest Finalist Award (3rd Place)" in 2012, Green Lava is one of the brightest young independent developers in South America.
An extension of interactive entertainment agency Reverb Communications, Inc., Reverb Triple XP provides a spectrum of services customized to focus on the needs of indie game developers. Reverb Triple XP powers up titles that stand out with excellent gameplay, creative design, and that elusive fun factor. Once chosen, our team of game industry veterans works with the game developers to fully understand and play the title, then execute on world class marketing, PR, social, production and distribution services that are fitting for games of the highest quality.
---
Shiny Loot - DRM-free indie games for PC, Mac and Linux
Like www.IndieGameNews.com? Please +1 us!

Email This
BlogThis!
Share to Twitter
Share to Facebook
Share to Pinterest
Perth, Australia — May 31st 2014 —
Whisk Mobile Development
has released
Col
our
Co
lor
for iPhone® and iPod touch®. ColourColor is a game about colour. Or color. There's no judgement here. The unique 'game mechanic' of ColourColor involves matching the colours that you find your surroundings against those in your opponent's. Alternately setting the target colour, or attempting to match it.
ColourColor stands out from the pack with its gorgeous, crispy graphics and tasteful colour palette, perfectly in tune with the aesthetic sensibilities of the modern app consumer. Such flat. Much retina. Many long shadows. Wow.
The science bit - "using the complex CIE delta-E2000 formula, we calculate a perceptually uniform score based on how far your matching colour is from your opponent's target" - so there's real science behind it, but art in the gameplay.
ColourColor Features
* A social game of real-world colour matching.
* Challenge your friends to match the colours that you find around you.
* Choose themes such as food, transport or even the culturally significant 'selfie' theme.
* Combines sharing photos, messaging with your friends and a challenging game of skill.
Pricing and Availability
ColourColor is free to download from the App Store now. There is also an 'In-App purchase' that allow the player to play unlimited concurrent games for just 99¢ / £0.69 / €0,79. ColourColor is designed for iPhone and iPod touch, and requires iOS 7.0 or newer.
App Store Link: https://itunes.apple.com/us/app/colourcolor/id623730507?mt=8


About Whisk Mobile Development
Whisk Mobile Development is a small indie developer based in sunny Perth, Western Australia. We aim to produce polished, modern apps, but more importantly, to work on projects that we find truly interesting.
---
Shiny Loot - DRM-free indie games for PC, Mac and Linux
Like www.IndieGameNews.com? Please +1 us!

Email This
BlogThis!
Share to Twitter
Share to Facebook
Share to Pinterest
Friday, 30 May 2014
FRANCE, PARIS -- May 30, 2014 --
newly founded indie game developer
Fenris Lair Studio
started their Steam Greenlight campaign, seeking approval for
Untold Universe
, an independent PC/Mac/Linux MMORPG intending to let thousands of players shape and colonize a huge and uncharted universe. The game currently is in an early Alpha stage, being developed on quick iterations to adapt to the community feedback.
Greenlight link: http://steamcommunity.com/sharedfiles/filedetails/?id=260747404

Fenris Lair Studio is looking for more opinions from players while the game is in development, as "it is the best time to make important design choices", which means that the game will not be available on Steam before next year, when it will be ready for public Beta.
* Massively Multiplayer Sandbox: Play with people from all around the world, team up to be stronger and shape entire worlds all together!
* Explore an Infinite Universe: Land on planets of different types, then explore and exploit them! New ones will be added as more players enter the universe.
* Build and Trade your Designs: Gather ressources and use them to build anything from factories to spaceships then sell or use them to your own benefit!
* Choose your role: The game will not limit you to a particular skill. Want to be good at something? Just do it!
* Jobs system: Colonizing worlds alone can be long and hard. Those who want to make quick cash and meet new people to work with will be able to take jobs generated by other players corporations. Defend assets, find a place to mine, build infrastructures, many jobs will be available to improve in your favorite field!
Founded in 2013 by three developers, Fenris Lair Studio was created to support the development and distribution of Untold Universe. Since then, the studio's team welcomed two new profiles, being an artist and a game designer.
---
Shiny Loot - DRM-free indie games for PC, Mac and Linux
Like www.IndieGameNews.com? Please +1 us!

Email This
BlogThis!
Share to Twitter
Share to Facebook
Share to Pinterest
Thursday, 29 May 2014
100% Orange Juice

is a computer "board game" featuring (apparently well-known) anime characters collecting stars and fighting chicken, their opponent players, and the random number god. The good thing is that you won't need to know about the characters in order to play the game. The bad thing is that you should really like chibi art and Japanese voice-overs in order to make it past the main menu screen.
To be honest, I had some trouble figuring things out first. The menu layout is clean and simple but the friendly "How to play" button doesn't open a tutorial, or an in-game manual, instead it brings up the Steam overlay and opens an online manual that is not exactly brief. So I opted for the good old "let's just try it out" approach.
Simply put, the game takes place on a board of coloured tiles. Each player has a "home tile" and basically just walks around the board in circles trying to reach a certain gaol (called quota). Once you reach that goal you need to stop by your home tile to claim a victory star. Win enough of those before someone else does, and you win the game.
This sounds almost too simple but the goals themselves are diverse- and after reaching a goal you're free to pick the next from a small list of options, so there's quite a bit of action going on. Collecting enough stars, defeating opponents, it's up to you.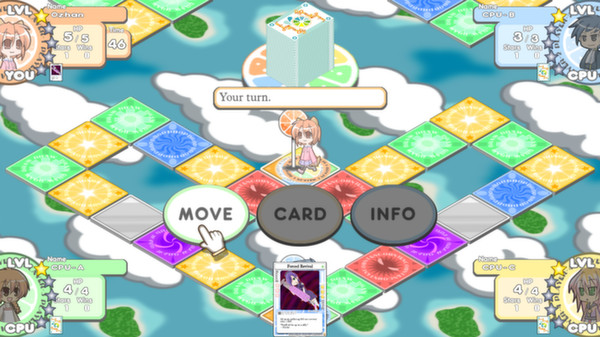 As any good board game sim should, 100% Orange Juice supports multiplayer but also allows you to play against the computer. This way or that, it's a game for 2 to 4 players. I played three matches against the computer in order to write this review and, to be honest, it was kind of fun.
You pick your cute little chibi avatar and then enter the board. Once it's your turn, you roll a die and move accordingly. The colour of your target tile then results in an "event"- a yellow tile lets you roll for bonus stars, a blue one forces you to drop stars. Red tiles hold tiny cute enemies you have to defeat, purple tiles teleport you, and so on. And if you land on a tile that is currently occupied by another player, you can fight them, too (stealing their stars). It's simple enough and pretty much everything is done by rolling dice. Combat damage, avoiding hits, amount of stars earned from a tile, all's done with a single click to toss that die. To spice things up you also have a deck of effect cards; after drawing one at random you can use it in fights and before movement to give yourself some advantage (roll two dice, heal, be protected from losing stars and much more).
In the end, all these many elements do a pretty good job of disguising how incredibly simple the core mechanic is. Once you things figured out and know what to do, it's actually quite relaxing to click through the turns, hoping to hit a yellow square so that you can use your bonus card and get those 30 stars you need to claim that last victory... and maybe fail. Because a CHICKEN defeated you.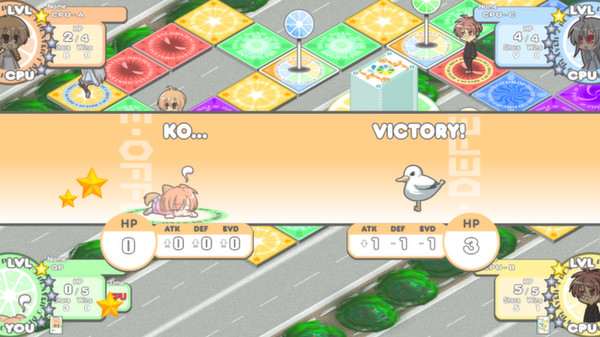 The whole game reminded me a bit of Mario Party, only that there are no minigames apart from the "fighting". Or it could pass as a more complicated version of Trouble! (the boardgame). With a few friends it's a nice way for a young player to pass a boring hour, and the game's overall cheerful childish anime look and easygoing soundtrack clearly targets young gamers. For those, the (many) different options (card! dice! character stats! CHICKEN!) will probably be a bit overwhelming but it's easy to just play and then realise how things work. And to that target audience I can recommend the game as a colourful, cheerful little time-waster.
But in the end 100% Orange Juice tries to be too much and fails to be really engaging in any of its parts. I thought the cards would be awesome, you can even purchase new cards with stars you earn during a match, but the effects are not powerful enough to feel satisfying. The fighting mechanic is neat, allowing you to nail your opponent to a tile until he recovers with a lucky die roll, but even that gets old fast. But this could, again, be just me. I mean, it's not Civilization 4 or BatlleChess and doesn't try to be those games.
It's just a fun little boardgame. And that's not a bad thing.
Review by Ghost from the AGS Forum
Links:
The Fruitback Factory Homepage
Steam page for 100% Orange Juice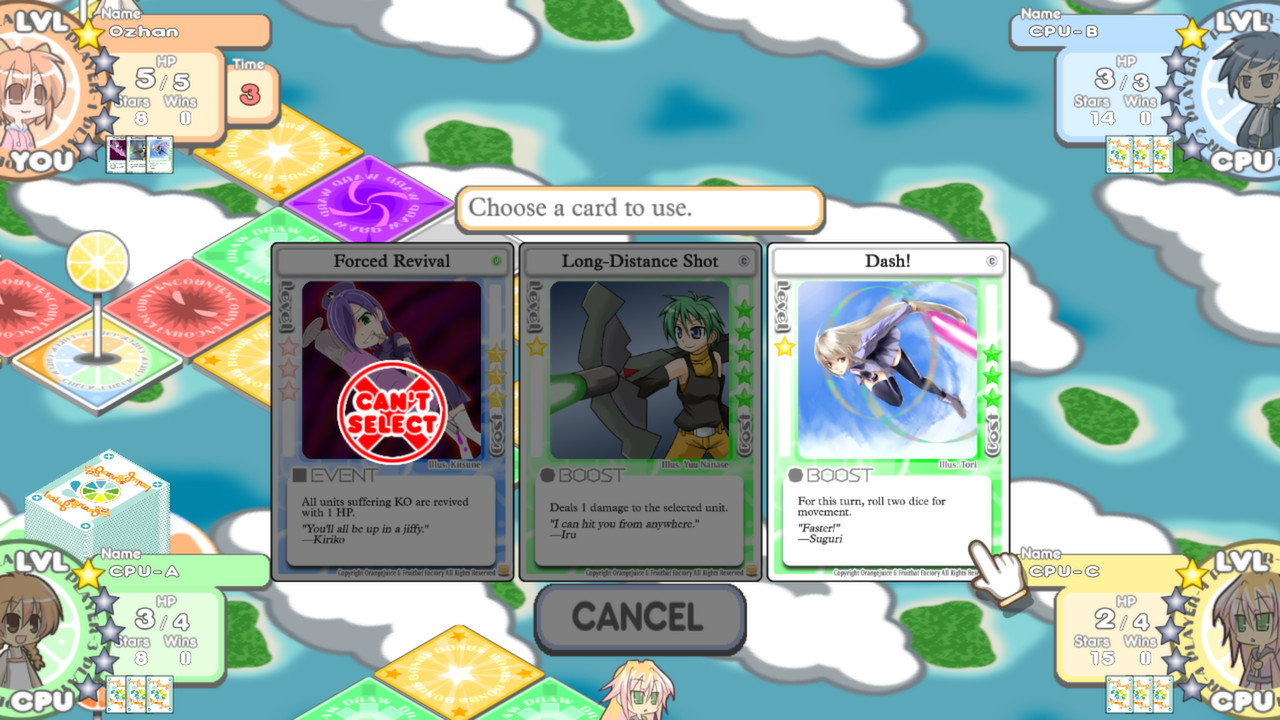 ---
Shiny Loot - DRM-free indie games for PC, Mac and Linux
Like www.IndieGameNews.com? Please +1 us!

Email This
BlogThis!
Share to Twitter
Share to Facebook
Share to Pinterest
News from our friends at Nyu Media:
While the major Japanese publishers struggle to find their feet in today's gaming environment, the Japanese indie gaming scene continues to thrive and reach increasing numbers of overseas gamers.
The next major development in that trend happens today, as we are excited to present Nyu Media's May Greenlight Slate of 4 doujin games that hit Steam Greenlight this morning. Click on the image for the slate announcement poster or see below for details.
Yatagarasu Attack on Cataclysm (Developer: PDW:HOTAPEN)
• Following last year's highly successful IndieGogo campaign (and subsequent run-in with PayPal), this outstanding doujin 2D fighting game debuts on Steam Greenlight!
• Features 11 playable characters, solid gameplay, dynamic commentary by tournament commentators Jchensor, Kokujin, UltraDavid, Maximilian, GGPO-based online match play, and much more!
• Brought to you by 3 former SNK / King of Fighters developers and an ensemble cast of creative talent including art by KOTANI:Tomoyuki (Mushihimesama) & Yasuda Suzuhito (Shin Megami Tensei), voice acting by Kaji Yuki (Attack on Titan) Uchida Maaya ([email protected]), and soundtrack by Raito (Melty Blood, Under Night In-birth)!
• Steam Greenlight: http://bit.ly/1nUTkxD
• Homepage: http://yatagarasu-FTG.com
Sacred Tears TRUE (AlphaNuts)
• A doujin RPG that blends the best of the JRPG genre with innovative and fun game elements, high quality art and music, plus outstanding replay value in one honest-to-goodness gem of a game and a must-have for any JRPG fan!
• Sacred Tears TRUE features fresh and unique gameplay features such as a deceptively simple but deep card battle system, redistributable skill points, a multi-way system and more.
• Graphics by Takashi KONNO (Shichinin no Bukiya) and music by Hiroyuki Ojima (Accel World, When They Cry anime) and Shimotsuki Haruka (Atelier Iris, Ace Attorney Orchestral Performance)
• Steam Greenlight: http://bit.ly/1nuCfP5
• Homepage: http://sacredtearstrue.com
Supercharged Robot VULKAISER (ASTRO PORT)
• J-pop kitsch FTW in this 70s giant robot anime-inspired side-scrolling shooter from the makers of SATAZIUS and GIGANTIC ARMY!
• Combine VULKAISER with the VulFighter craft and harness the awe-inspiring power of Rocket KAISER, Needle KAISER, Thunder KAISER, and Drill KAISER to save the Earth from invasion by the evil alien Gogoh Army!
• 6 stages and 4 difficulty levels of giant robot shooting action!
• Steam Greenlight: http://bit.ly/1hyAXun
• Homepage: http://vulkaiser.com
• Lock & load the full mecha jacket and thwart global assault by the Neo Loran Order in this 2D side-scrolling blast-a-thon of bullets, lasers, missiles & boss fights!
• 12 weapons x 7 stages x 4 difficulty levels of side scrolling mech-shooting action!
• New for Steam: achievements, online leaderboards, Steam trading cards!
• Steam Greenlight: http://bit.ly/RBz0X8
• Homepage: http://armedseven.com
---
Shiny Loot - DRM-free indie games for PC, Mac and Linux
Like www.IndieGameNews.com? Please +1 us!

Email This
BlogThis!
Share to Twitter
Share to Facebook
Share to Pinterest
---
Shiny Loot - DRM-free indie games for PC, Mac and Linux
Like www.IndieGameNews.com? Please +1 us!

Email This
BlogThis!
Share to Twitter
Share to Facebook
Share to Pinterest
Time for the latest update in the already large series of updates released by Little Green Men Games for their popular Early Access title Starpoint Gemini 2, currently in beta.
"With our regular updates, we really want to show our awesome fans that we're fully committed to making the game that they want and deserve. Along with our feature plans, we're always happy to implement something the community has asked for. The chase camera was the next in line."
Oliver Tomic, LGM Games lead programmer
The latest update to the beta stage of the game brings a number of visual and gameplay improvements, and fixes along with German and Russian language packs.
Update v0.7014 highlights:
·
Added the much wanted Chase camera mode that automatically tracks targeted object
·
Leave a nice little [i]gift[/i] for your enemies in the form of the powerful Orpheus mine
·
Knock down incoming heavy weapon projectiles with the Atlas defense field
·
Deploy the SETH platform to aid you in crushing your opponents
·
Physics implemented in the last update receives its first tweak as collisions can now cause damage
·
Replaced several asteroid field models with new and much improved versions
·
Game is now available in German and Russian
·
The Mod Manager gets the wanted tweak to enable updating your mods
The full update change-list can be found on Steam:
http://store.steampowered.com/app/236150
---
Shiny Loot - DRM-free indie games for PC, Mac and Linux
Like www.IndieGameNews.com? Please +1 us!

Email This
BlogThis!
Share to Twitter
Share to Facebook
Share to Pinterest
An easily moddable, 2D sandbox game with a lighthearted mood, colorful art and RPG elements comes to Steam Early Access
Drawing on the pioneers of the sandbox genre such as Minecraft and Terraria, Crea features combat and crafting in attractive, randomly-generated worlds for you to explore, tear apart and build back up in your own design. What sets Crea apart from other sandbox games is that it's created with modders in mind. Every aspect - and we really mean every aspect - of Crea is designed to be easy to modify and customize.
Features of the Early Access game on Steam:
▪ Explore procedurally generated worlds that are built upon an expasive mythos.

▪ Grow and learn over 50 skills by performing related actions for any of your talents - Arms, Arcane, Divine, Craft, and Gather.

▪ Research numerous materials with to learn over 200 item recipes for crafting.

▪ Monsters spread throughout the world, taking over regions and growing in strength and numbers if left alone.

▪ Built from the ground up to have extensive mod support. Nearly everything is possible through the power of Python.
Crea will be available on Steam Early Access beginning June 3rd for PC (Windows) Mac and Linux for 10% off the full retail price of $14.99 (USD) or currency equivalent for the first week. 4-packs of the game will also be available at 10% off the full retail price of $44.97. In conjunction with the release, Crea has released a new trailer:
For further information regarding Crea or Seige Games, please check out the Website and follow on Facebook and Twitter.
---
Shiny Loot - DRM-free indie games for PC, Mac and Linux
Like www.IndieGameNews.com? Please +1 us!

Email This
BlogThis!
Share to Twitter
Share to Facebook
Share to Pinterest
May 29 2014 - Rome, Italy
- Today
GhostShark Games
is proud to announce that their voxel based PvP FPS,
Blockstorm
, is available on Steam Early Access.
BlockStorm
is an FPS set in a world that consists entirely of destructible blocks and with the in-game editor, it allows you to fully customize your game and quickly share your creations with other players. You're free to create your own maps and characters from scratch or simply customize existing ones.
'BlockStorm is our first commercial production and we hope you will appreciate our efforts. After a year of work, we have built a basis on which to develop, following the varied opinions of our community,' said Davide Barbieri, game director atGhostShark Games, 'BlockStorm will be available on Steam Early Access and this means that the game will change as you play. Based on your feedback, we will update, add content and ultimately evolve. It'll remain in development until we feel the community believes the game is ready for a full commercial release.'
The maps and characters included in the game are made with the same tools that are available to the public, so you're only limited by your imagination.
Weapons range from precise rifles to heavy machine guns or even explosives capable of destroying hiding places and creating tactical advantages. So now, there really is no hiding place that a pesky camper can hide in and stay safe in the game's 3 modes - Deathmatch, Team Deathmatch and Assault.
Pick out your own load out, choosing between a set of weapons configured by the creator of the map.
You can build anything and everything in Blockstorm, and best of all, it can and will be destroyed!
Grab your Steam Early Access key -

https://shop.playblockstorm.com
GhostShark Games is a development studio founded in Rome by talented and experienced developers sharing their passion for games. They have strong experience in game development on desktop and mobile platforms. They have built interactive applications for their own projects and for publishing partners.
---
Shiny Loot - DRM-free indie games for PC, Mac and Linux
Like www.IndieGameNews.com? Please +1 us!

Email This
BlogThis!
Share to Twitter
Share to Facebook
Share to Pinterest