---
See most popular posts:
---

Tuesday, 23 November 2010
on
This game created by Anawiki Games and Retrostyle Games doesn't look much like my cup of tea, but I'm sure it will appeal to some. Here's the blurb:



Pattie is an animal-lover, working at the Dress-Up Pups fashion agency for dogs. When her boss has to leave town on important business, she's put in charge of the whole place; it's a big opportunity for her! Help her deal with ten different clients, each with their own dog and their own special requests, in this hilarious and exciting Match-3 adventure.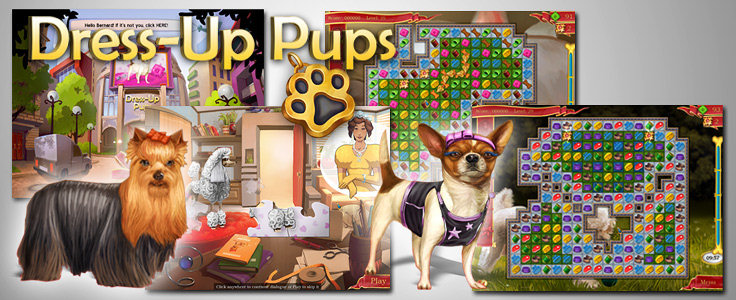 Form chains of matching symbols to clear them from the grid; make matches over the target squares to activate them, then maneuver the puzzle pieces to the bottom of the screen to collect them. Once you've collected all the puzzle pieces, you'll get to play a jigsaw mini-game in order to put the final outfit together.

The addictive gameplay and hilarious dialogue will keep you coming back for more. With over 190 levels and 21 outfits to discover, you'll be clicking and laughing for hours and hours!

Dress-Up Pups is available for download for PC Windows and Mac OSX. Linux version will follow shortly (yes, we're back to Linux games). Please find direct download links below.
Download Dress-Up Pups for Windows
Download Dress-Up Pups for Mac OSX
Popular Posts This Week
Blackwell Convergence did badly in its first month... Puzzle Bots had great pre-order sales... but which of Wadjet Eye Games ' titles ha...

Soldak Entertainment have released their latest action RPG, Din's Curse , for both Windows and Macs. Buy: http://www.soldak.com/Dins-...

Red Panda Games have announced a new forum for visual novel game players.  It's still under construction, but people are able to sign u...

Having already supported such amazing indie projects as Maia, Under the Ocean and 99 Spirits and having helped bring more exposure to as...

SAN FRANCISCO – March 6, 2013 –  Game Connection has today announced the list of Selected Projects for Game Connection America 2013, 15 gam...

Available for PC, Mac and Linux. "Madeleine Valois is a prince's companion. Her job is to guide and advise him, to make him look ...

MONTPELLIER, France - March 6, 2013 - Mobile gamers, the fight is on! Indie developers The Game Bakers are revealing their next game:  C...

Ankara, Turkey - Soner Kara of skgames today is pleased to announce the fourth update to its popular arcade racing title, Traffic Racer . ...

21st February, 2013 - Singapore - Independent development Studio  Axion Logic  is excited to announce their action RPG, West Legends is n...